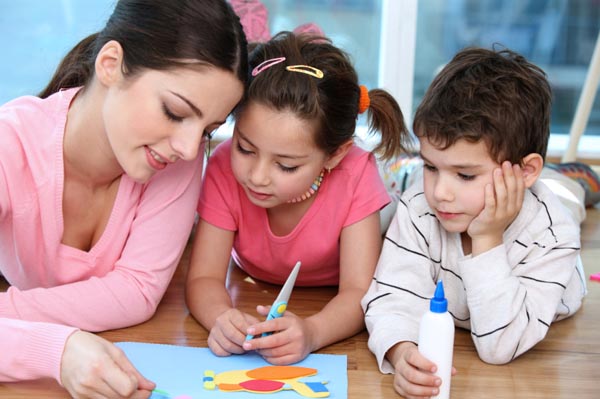 When deciding weather or not your family needs live-in verses live-out nanny help, there are a couple of basic guidelines to talk over.  Some may seem obvious, but others may shed light on some things you  may not had thought of.  That is why we are here to help!
Live-in nannies can bring many positives to a family such as around the clock assistance, strong child/nanny bond, general around the house help, travel etc.  But what a family must also consider are the other responsibilities that go along with hiring such permanent help.
Here we have provided a list of general concerns families encountered and overcame when exploring the live-in nanny process.
The Au Pair Buzz blog did a wonderful job breaking down the Top 7 concerns and solutions when hiring a live-in nanny.
1. The concern: Loss of privacy
How they overcame it:
"We made sure we have an nanny who enjoys being out with other nannies"
"We got over it by just deciding having a nanny had more pros than cons."
"All of our nannies have respected our privacy so it has not been a problem."
"Gradually, you just get used to it. And find time for date nights."
"We were pleasantly surprised how much our nanny likes to go out on weekends with other nannies so we get more alone time than we thought! We love our nanny but it is nice to have family alone time, too."
2. The concern: Another person in the house
How they overcame it:
 "The assistance our nanny provides with the dishes and children's laundry and running errands has certainly made up for any inconvenience."
"We were worried about having someone else in our house all the time, eating meals with us and sitting with us during down time. However, the moment our first nanny joined us we realized it was like having another member of the family around! It makes our meals, down times, and other times even better."
3. The concern: Having the nanny feel like a guest and not a family member
How they overcame it:
"We just decide to act ourselves from the first day to get everyone used to a routine." Another parent shared, "It can feel weird to have a stranger in your house, but as long as you treat them as a family member, such as a niece or daughter it works."
4. The concern: Internet use, guests, car use
"We had general concerns about the au pair not being focused on the kids because she is texting or on the internet, not knowing what is safe and what is not safe, not knowing how to react in an emergency, bringing strangers to the house, posting private information on Facebook, drinking and driving, getting involved with drugs or bad company, etc."
How they overcame it:
"We have very clear rules about car usage, internet usage and bringing people to the house and well as other things involving the kids' safety. The nanny rules are written out and shared with the nanny upon arrival. We always address it immediately if any of the rules are not being followed."
5. The concern: Having another woman in the house
"I was concerned that I would be uncomfortable about the interaction between my husband and a young beautiful foreign woman."
How they overcame it:
It has worked out all right for all the years we've hosted nannies – I mostly manage them day to day, and there is always the right tone and appropriate balance in their relationship with my husband.
6. The concern: Following your rules
 "We had concerns about the nanny following our wishes with the children when we are not home."
How they overcame it:
"We daily review the plans and the expectations because times can change with moods. Also, there are many temptations for all of us, internet, down time, shortcuts, TV…all those things that have to be assessed and how they affect the function of the family. Teaching structure and planning helps. We believe in communication and honesty."
For more information on this topic visit:
http://aupairbuzz.culturalcare.com/top-concerns-about-live-in-nannies-and-au-pairs/
Happy Nanny Hunting!! 🙂